This is a upgrade of the analog power potentiometer to give you better control over the power level. It´s also easier to remember a number than a location of the pot.
You can buy this from me prebuilt, ready to connect to your machine here.
Or follow this guide to make your own!
If you want to convert your digital K40 to analog with this solution – check out this conversion article.
Tools you need
– Soldering iron and solder
– Wire stripper and cutter
Parts needed
– 10K, 10-turn potentiometer: Aliexpress | Ebay
– 3-wire voltmeter, 0-30 or 0-99 volts. Aliexpress | Ebay
– Knob for the potentiometer, 6mm shaft. Make sure to check specs. on the potentiometer you buy.
– Heat shrink and some cables, 0.5-1mm2 is good enough.
Connect it
Here is a overview of the connections you have to make.
I did this in a cartoon-ish style, so everyone can understand how it all connects.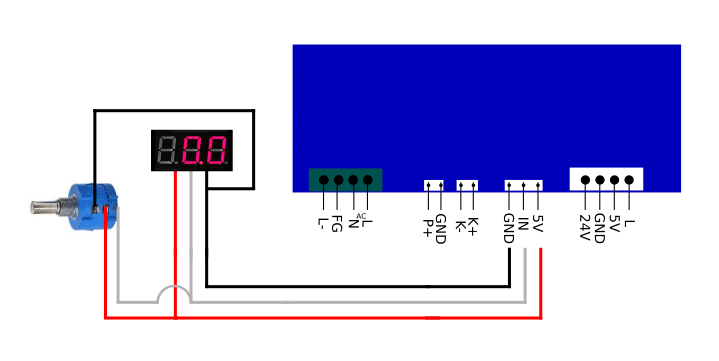 There is two approaches to this upgrade.
1: Re-use the cables already on the old pot.
2: New cables from the power supply.
Depending on what you choose, you can splice the cables on the old ones or add new cables all together.
Depending on how your panel looks the length of the wires can vary, look at the schematic above to see how to connect everything and choose the length you need on your machine.
Step-by-step list
I have written a easier step-by-step guide here to solder it all up.
This approach replaces all three cables from the power supply to the pot.
Step 1: Measure how long cables you need from your PSU to the panel, remember to account for the lid opening. As a example: 300mm, cut and strip the ends on three cables.
---
Step 2: Measure distance between the pot and the voltmeter display, where you want to place it. Let´s say 100mm, cut and strip the ends on three cables.
---
Step 3: The volt-meter has cables already soldered on it. Solder the 100mm and 300mm cables to them, making a Y-connection. Remember to add the shrink tube over the soldered connection, or insulate it with electric tape.
---
Step 4: Solder the 100mm ends to the potentiometer, as shown on the picture above.
---
Step 5: Replace the old cables on the power supply with the new 300mm cables you just made.
Replace the potentiometer in the panel and make a hole for the voltmeter, or just let it sit on top of the panel 😉
If you have the newer style PSU with white connectors for 5V,GND and IN, splice the cable on the old connector. Or buy JST 2.5 XH connectors from Aliexpress or Ebay to make it look a bit nicer.
Thats all for now, power up the machine and check out your now improved power control 🙂