The lens in your laser head is the final part in your machine that creates the beam shape of your machine. Stock size for K40 machines are 12mm dia.
Most common lens is the ZnSE lens and it exist with different focal length.
Standard focal length for the K40 is 50.8mm (distance from underside of lens to the focal pont where the beam is as most enregized).
Keeping this clean is very important – read more here how to keep your lens clean
Picture of a ZnSE lens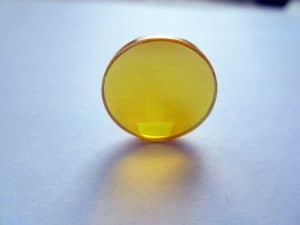 Orientation of the lens.
In our K40 type of machines the lens is always installed with the rounded side up.
See illustration