I personally coined the expressions "smoke assist" a year ago when i was trying to explain to new users what the difference is on air assist and smoke assist, and what the two different techniques should be used for 🙂
What is smoke assist?
Smoke assist is a helping hand to keep your mirror or/and lens clean of the smoke generated by the lasing work.
The exhaust should only do the work of transporting the smoke from the exit to the end of the hose, nothing else.
The smoke assist helps moving the smoke from the cut area to the exit where the exhaust fan takes over.
With the smoke assist you can use less powerful exhaust fans, as the exhaust doesnt need to put the machine casing under negative pressure to clean out the smoke, the smoke assist helps with this.
Common airflow and air dynamics, what you want is a flow trough the machine with air, from the smoke assist fans -> exhaust fan.
Easiest solution for a smoke assist
Add fans, doesn´t matter what fans, i used my daughters hair dryer the first weeks and later changed to two 50mm 12v DC fans mounted in the front of the machine blowing air over the bed.
Later on i added more fans inside the machine on my laser head to keep the lens clear.
For bigger machines you need bigger fans, like 120mm computer fans.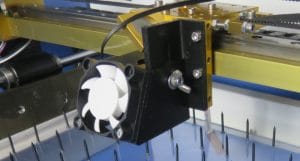 This laser head is custom made by me, not a original product.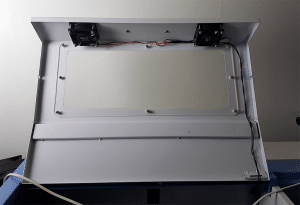 Here is the intake fans in my lid. You can mount them in the bottom or front piece, just add fans to help out with the input of air.