This article is aimed at people who want to buy a K40 laser cutter machine but need more information before deciding whether or not to buy one.
Read this article, as well as all other articles about the k40, to learn more about this machine family.
The machine
Different types of K40 cases
The K40 is often blue and white, but comes in a variation of colors, black-red, red-white, orange-black and similar combinations. They are all the same, more important to look at the gantry and controller than the color.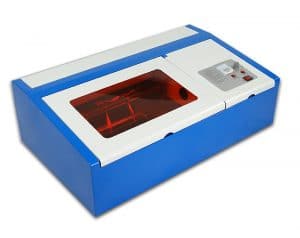 This is the most common K40 on the market.
---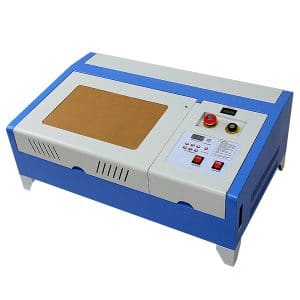 Here is another type of k40, with digital panel.
---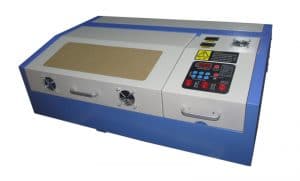 The K40D is the newest version of the K40 family. This one is the best version you can get on the market today. The price is almost 2x a regular K40 though.
Different types of gantrys
The regular gantry in the K40 is this type shown below. This is what you get in the most of the k40´s on the market.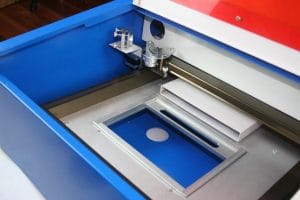 Here is the K40D gantry, which is much better, less vibrations and overall better than the regular K40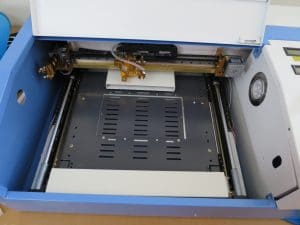 Analog or digital
To kill off the discussions about analog vs digital – they are the same, 100% identical.
The difference is that the digital panel shows a percentage that isn´t real, 100% is not 100%, its 150%.
If you buy a digital panel you need to buy a mA-meter to add to your machine, to know where your real limit is. (aprox 16-18mA) Here is a article how to install it.
Common problems and upgrades to expect
Electric and security
The K40 is not, i repeat, not a plug-and-play laser machine. It is very dangerous with high voltages that can and will kill you if you aren´t cautious.
Read my article about Setting up your laser
Optics, gantry and machine case
The K40 is not air tight, the better you can get it sealed the less smell and smoke will spill outside the machie. More articles about this here.
Be prepared to order a kit of optics for your machine, the mirrors and lens provided with your machine are worthless, at best. Most users see a 20-30% power increase with our mirror and lens kits.
The gantry often has faults, not beeing properly aligned, bad cuts on the ends forcing it out of square and similar problems. Do a visual inspection when it arrives and use the alignment guide to set it up.
Air and smoke assist.
If air assist of some kind is not included, you will have a great use of it. Check out the air assist articles here.
Smoke assist helps your exhaust, check out the smoke assist article here.
The seller
Start with finding a couple of machines you are interested in (or check out my links below).
Watch the ratings and reviews of the sellers, read the comments and try to understand that many people buying a K40 have never used a laser before.
Most sellers, not all of them, but most of them will correct any trouble you have with the machine.
99% of the problems you get, if any, comes from shipping the machine to you and many sellers get bad reviews due to this.
Try to keep your business to sellers that has been active for more than a year and keep away from the ones selling laser machines, lawn mowers and rubber ding-dong´s in the same store 😉
What to watch out for
As mentioned earlier, stay with sellers specializing on lasers and cnc machinery, they know what they sell. Other sellers just sell it to make money and may have a hard time supporting you with your questions after the buy.
Regarding payment, make sure to do the payment through the website´s escrow service on Ebay, amazon or aliexpress, never send money directly to a PayPal account.
If you get a heavily damaged machine, PayPal want you to send it back on your expense, often more than the machine cost. On the escrow-services, the seller has to fix your problems with parts or new machine, it´s a big difference in security for you.
Regarding the machines, keep away from Moshi controller, they are marked as MoshiDraw, LDDraw and similar. This is a old outdated controller and very bad functions, do not buy.