Installing a 24V external PSU for your motors and controller board is one of the best upgrades you can do.
The stock power supply (Laser PSU) is not made to take care of both the controller and the stepper motors. We have been talking to the manufacturer and these power supplies was made to have a external power source for the motors and only powering the controllers with the stock PSU. It´s limited to 1 Ampere output, while the motors alone want up to 2A to work properly.
The controller boards in the K40 do not allow for external power to the motors though, so the laser PSU is used anyway for both motor and the controller.
You might have a old 24V brick at home you are not using, just make sure it´s a 4A or more. I would not suggest going above 6-8A just to be sure nothing fries.
What you can expect by upgrading to a external PSU.
– More exact movements.
– More speed and accuracy out of your stepper motors.
– Less problems with your controller board.
Tools you need
– Crimping tool or soldering iron.
– Screw drivers for the connectors on the stock PSU.
Parts you need
– One 24V power supply, 4A is good enough, don´t go below 4A.
– Crimps for joining cables (soldering iron is better)
– Some cables and cable ties or cable sleeves. 0.75mm2 (20AWG) is good enough
Connect your new 24V PSU
Remove the power cable from your laser machine and let it sit at least a hour to make sure the caps are discharged. Just to be safe.
Take a photo of your laser power supply and the cables you have installed. If you unscrew the wrong cables you want to know where they was located, i have done it alot and a photo helps putting everything back.
Take your 24V psu, in the picture below you can see how mine looks.
It has a DC jack in one end, we do not want this.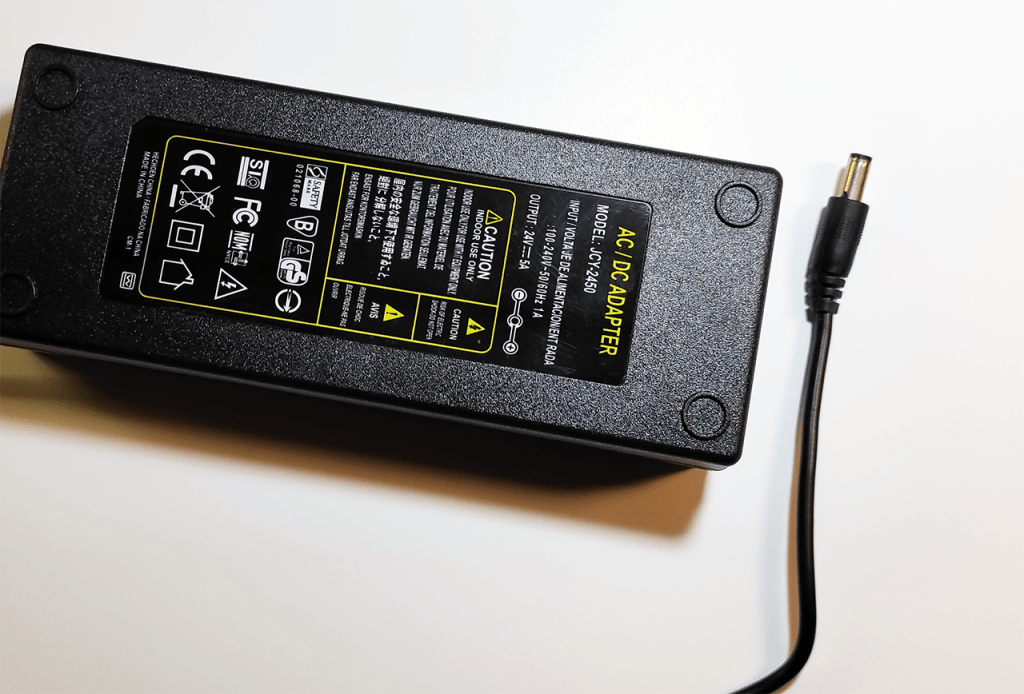 So i cut it off and expose the two wires inside the cable.
Cut the cable as long you need, try it out inside your laser machine before cutting so you have enough.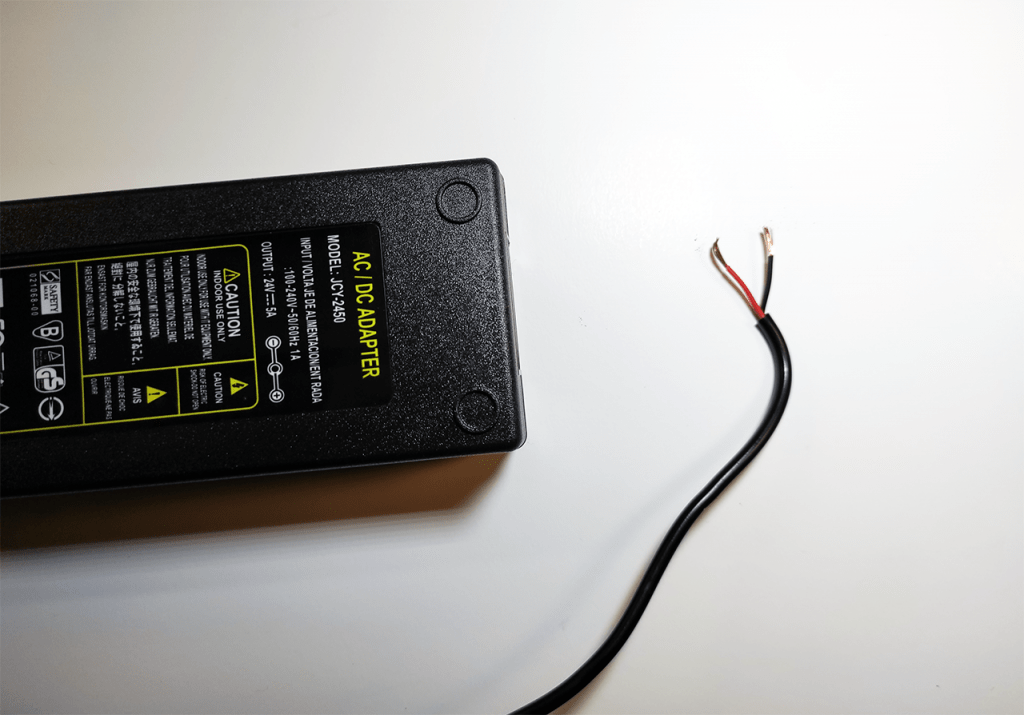 Now remove the cables from your laser PSU.
Look at this picture – you want to remove the cables numbered 11 and 12. As can be seen below, 11 is positive and 12 is negative.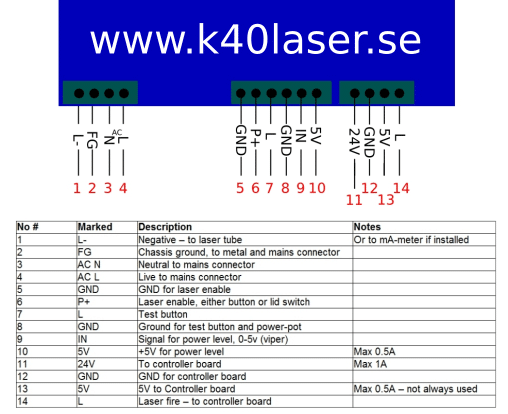 The two cables, pin 11 and 12 is going to your controller board – just to make sure you have the right cables, follow them and confirm they are connected to the controller board in your laser machine.
On your 24V PSU – connect the positive cable to the no 11 cable that were located on your laser PSU earlier.
Now you need a bit of extra cable – roughly 30cm.
Solder or crimp the extra cable together with no12 cable to the negative lead on your 24V PSU.
Measure the length needed for the new cable you have – this one goes back to the GND pin (12) on your laser PSU – or you can route it back to the ground pin in the back of your laser machine.
Pin 11 on your PSU is not connected to anything after this upgrade!
More detailed pictures coming shortly, we are installing this in our demo-machine.
You are now ready to tidy up your cables, use zip ties or sleeves to manage your cable routing.