This is a short warning with information how to solve the issue.
More and more machines are delivered with deadly configuration on the grounding of the electronics.
In China, the electric standard is not well built and many houses still do not have ground solutions in their house. So the machines are built by their standard, when we in EU or US or other parts of the world often have a good ground setup already in our homes since many years.
If you have a 3-prong outlet from your wall, you do not need (and should not) ground it from the ground bolt.[bsf-info-box icon="Defaults-exclamation-triangle warning" icon_size="32″ icon_color="#dd3333″ icon_animation="swing" title="Important information" pos="square_box" box_border_style="dashed" box_border_width="2″ box_border_color="#dd3333″]This guide expect that your ground wiring where you have the laser is up to code.
If you are uncertain your ground are safe in your house – consult a electrician.
The problem
The internal electronic parts are grounded to the ground bolt in the rear of the machine, so is the ground line in the cable you plug to your wall outlet.
But, the bolt itself are often isolated from the machine case which is a big problem, first off for your safety, second for the current regulations and laws about machines with high voltage.
In China they do this because the grounding is external and not inside the cable from their wall outlets. But for us who think the case ground is properly done – it can and will kill you!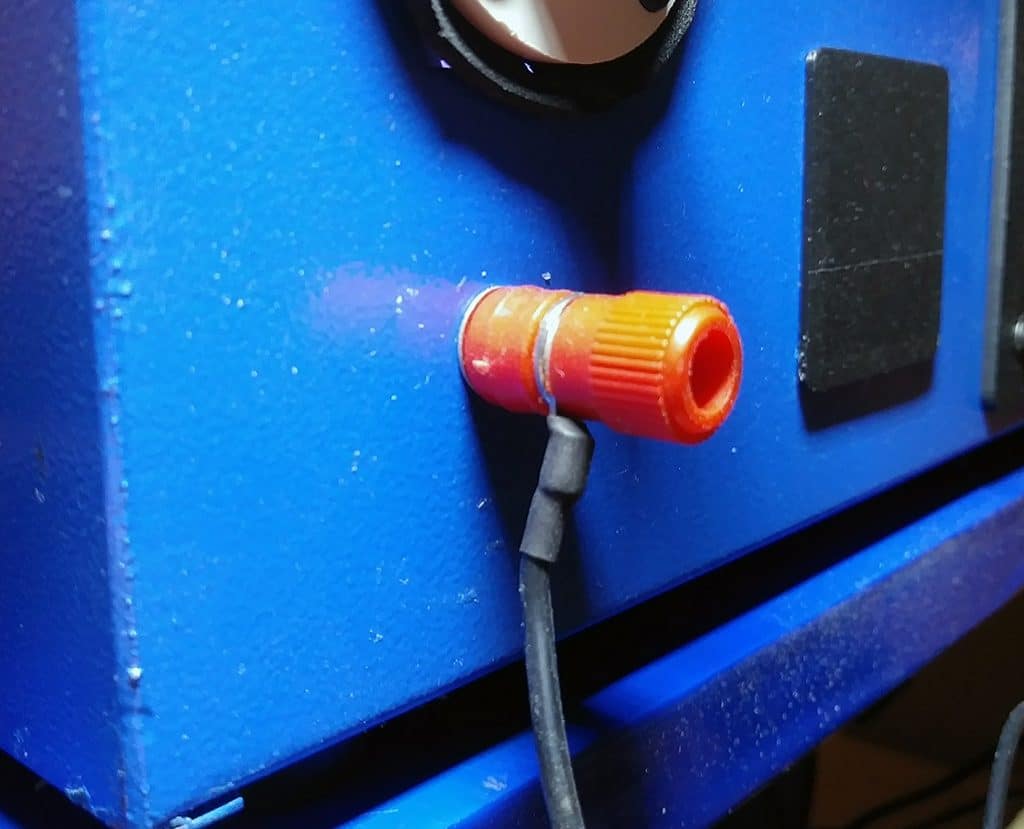 How to identify and fix this problem
Start with removing the ground bolt from your machine.
Use abrasive paper or a knife to scrape away some paint around the hole for the ground bolt. Both inside and outside.
Remove ALL plastic/nylon washers from the ground bolt, only use metal washers.
Some bolts has a plastic spacer, you might need this.
Here is a layout that will give you a good ground connection.
Now mount the bolt in your machine again.
The lock nut will ensure your bolt never comes off again. You can also use loctite or two nuts.
Here is a picture how a good ground bolt is fastened to your machine.
I use two toothed/serrated washers closest to the metal.