This guide will help you identify and solve most problems with your laser machine not firing the laser beam.
Make sure your K40 turns on and homes to zero position.
If it doesn´t, check the fuse in the rear power connector before continuing.
Step 1
Turn on your machine.
Open the lid on your panel and push the test-button located on your power supply
This is good, your PSU and laser tube is healthy and working.
Go to Step 2
The most common problem when the machine is firing with low power, and mA-meter showing 2-5mA no matter what power setting is set – the flyback transformer is often the issue.
This part is avalible at ebay, aliexpress or in our store. Make sure to visually identify your type of rectifier before ordering one.
If you want to step your game up a bit – upgrading to a HY-T50 is a good upgrade, this PSU does not have the issues the K40 power supply has.
Avalible on amazon, ebay and aliexpress.
You have a issue with your PSU or laser tube.
If you do not get any movement on the mA-meter at all its probably the tube.
If you get a small movement on the mA-meter, 3-4-5mA – it´s most likely your PSU.
The flyback transformer might be the issue but there is no guarantee it will solve your problems.
I suggest upgrading to a HY-T50 instead of buying a new K40 power supply (not sold by us).
This guide cannot identify exactly your problem any closer than this.
Things to try:
– Make sure you have grounded the machine properly – see this article
– Check all internal connections for breaks, bad crimps or loose cables.
Step 2
Turn on your machine.
Push the test-button on your panel, and/or through the software you are using with your machine.
Great – you don´t have a issue with your machine 😉
You probably have a issue with the protect function of the power supply.
Try this:
– Put a bridge or small cable between P+ and P-(gnd) and test the machine again. If it fires it´s whatever security solution connected to these pins that are your problem.
Often a flow sensor is connected, inspect it and sometimes it can be adjusted to allow for less flow/pressure.
Check this picture for pinouts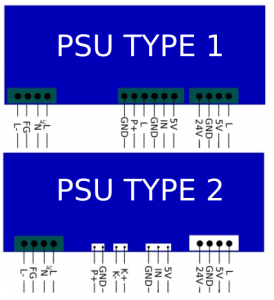 If you have upgraded your controller:
Make sure the power supply, any extra 24V power supply and the controller is grounded to the same point, often the ground bolt in the back of the machine.
You can also put a small cable between the laser PSU ground to the screw terminal ground on the Cohesion3D controller.
Same solution with other controllers, make sure they are grounded on the same spot.